We had a bit of a seaside break last weekend with a trip out to St. Leonards-on-sea/Hastings so I dyed some purple bfl/silk/cash especially for the project and then cast on Marin a few days before we left as I needed something other than socks to knit.
It took me a little bit to get the colour on this one right. I was aiming for the rich maroon-blue of my sweet peas!


Got pretty close, don't you think?
Unfortunately, the pattern isn't pulling it's weight on the effort front! The start of this project has been so shaky I nearly gave up at the start. As many others on Ravelry have mentioned, directions are a bit unclear, and I got confused quite a few times. Let me just stress that – QUITE a few times. I must have frogged back about 6 times all told before I thought I had an idea of what was supposed to happen. I was wrong…I am getting ahead of myself…
Here is the hard-won start of the project on the train for the journey out to the coast. Those of you that have already knit Marin may spot that I had already screwed up at this point, but I had no idea. Doh. (Excuse the blurry phone photos! I have actually been working on getting my photography skills back up to scratch but with a old phone camera there is just no hope.)


We lucked out with the weather as the forecast called for periods of rain and thunderstorms and instead we got almost 2 full days of bright sunshine and only got drenched once!  Below is a tiny image I posted to Twitter taken from atop West Hill above Hastings. It is so unbelievably gorgeous up there on a sunny day.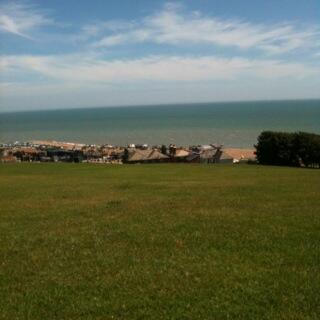 I was actually sitting in the location above on the last day of our trip when I reached the end of the second round of the centre chart and noted I was getting the below:


…a long thin scarf instead of a wedge. I had been assuming the wedge would start later on, but no, this just didn't look right.
I went back to the pattern and went through the convoluted instructions on how to include the charts yet AGAIN and realised I was missing a set of increases on the un-scalloped edge. Sigh.
As plenty of others have pointed out in the forums for this pattern – stitch counts on every row would help people to avoid all these glitches as you could quickly see that your counts aren't matching up! Not sure why Ysolda hasn't added them after all the complaints. ANYWAY.
For anyone else having troubles with this section, take a look at the image below.

The arrows to the right indicate where M1 increases are occurring – on BOTH sides of the middle garter panel.
The red arrow indicates where M1 increases are occurring which ARE NOT on the chart, but are vaguely referenced in the convoluted sentence on page 3 of the pattern.
The blue arrow shows the area where the charted M1s are occurring.
The green arrow shows where the increases start in the 'beginning edging pattern', where mine went all to shit.
If you do not have increases on both sides of the middle garter bit, then, my dear friend, you too have taken a wrong turn. Hope this helps keep someone from any pain and suffering!
I have now started the short rows and have been moving along fine, but realised that if this is the halfway point for the shawl  it is a little small. So. Now I have to try and mod this.
And have hit another hurdle. Eep.
This one is really stretching me, which I suppose is good, but I think I am going to need something simple and comforting after this!